Welcome
Avicenna was founded with the original intention of helping people and organizations in countries where help is needed. Due to the growing destruction and oppression of many countries and the increasing number of people who are forced to flee their native countries, Avicenna has adapted its original goals to now primarily support refugees "on the road" to Europe. A special focus lies on people who stay in inofficial camps near their homeland, in order to return home at some point or keep staying in their homeland in difficult conditions.
We invite everyone willing to help people in need to support us in person or with a monetary donation.
Our Facebook Site is permanently updated with new information, reports and fotos.
About us
We are a small group of doctors and other NGO's supporting refugees during their stay outside their native countries. We have helped in Greece, Turkey, Serbia, Irak, Lebanon and the refugees from Myan Mar in Bangla Desh. We provide for medical aid and – with the help of our international and local friends and helpers – for general supplies that are vital and bring relief as well as for education. In particular, we support the self-organization of those who are placed under disability to facilitate a life in dignity.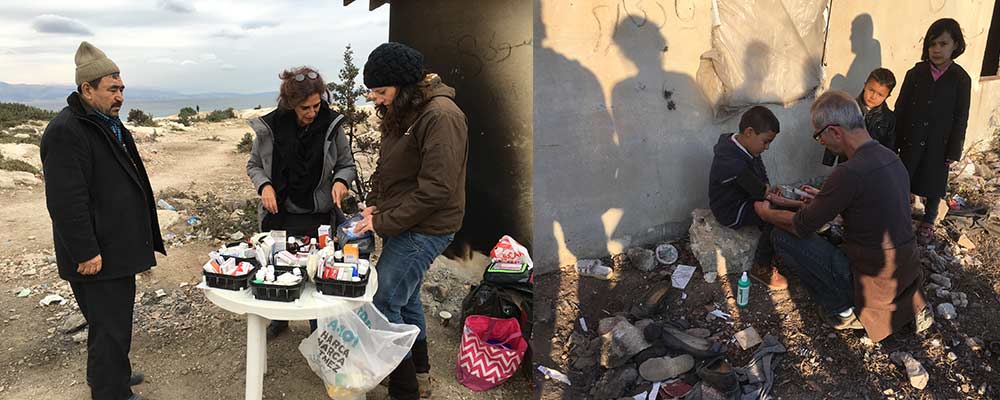 How it started
In fall 2015, we intended to spend our vacation in Crete/Greece. However, we then received a text message from a family member, who was engaged by German news magazine "Der Spiegel" to write a reportage while travelling the Balkan-route. He informed us about the wretched situation he encountered in Lesbos, asking us whether we'd be willing to help. Barely having arrived in Crete, we found ourselves on the next machine headed for Lesbos.
Since that moment, we are people on the road – looking for people on the road. We've met people who have lost their home and who are hoping for a safe, humane and – most of all – fair future. We have met people, who find joy and fulfillment by helping others. These ongoing encounters are changing our lives and have not lost their grip on us ever since!

TV report about our work in Lesbos
In the black of night, a rubber dinghy is attempting to land on a rocky coast in Lesbos. Shrieks of children are echoing through the darkness, while the boat is in permanent danger of capsizing. Intended for 30 people only, more than 60 are now huddled together on board…
These are scenes which are hard to forget! The people who have fled from war and terror have survived the dangerous passage from Turkey to Greece. They are soaking wet, yet lucky since tonight, helpers are present. Amongst them are the German-Iranian couple Bita and Khalil Kermani, two doctors from Cologne. They are expecting boats to land, helping people to disembark and onto the safe shore.
Part 2 her and Part 3 her
Turkey
Çeşme: 2015 and beginning of 2016 in the Çeşme area, refugees had sometimes to wait 10-20 days, depending on the weather and/or controls by the Turkish coastal guard, in order to cross over to the Greek island of Chios. It's a passage of only 8km, yet oftentimes deadly due to crowded rubber dinghys. Until August 2015, people were split into groups/families after a 4-hour march from the bus-stop and then crammed into filthy construction-abandoned buildings: a smugglers "camp" more like a dumping ground, located right across the shore of Chios.
Starting off in December 2015, we were the first doctors to undertake the medical support of – at times – thousands of refugees, primarily stemming from Afghanistan. Furthermore, we also tried to make their accomodation more "humane" (for example by providing matresses).
In January 2016, the area was emptied and sealed by the police. Afterwards people were waiting for their passage in boarding houses. Oftentimes, 10-12 people had to share a regular double room. The locals, in particular Ali and his group İmece, provided them on a daily basis with food and clothing.
Later some of those boarding houses were also cleared by the police. Hence, many were forced to sleep outdoors, exposed without protection to the cold. We met many children suffering from highly feverish infections, crouched on park benches.
We were much aided by the circumstance that our native language Farsi is very similar to Afghan, thus enabling us to communicate. It is of great importance to those people to talk – to let someone know about their worries and despair! Even if they should manage to put these exertions behind one day, by surviving the passage (which most of them have attempted several times, already), by getting as far as the Macedonian border – what might be expecting them there, that's worth hoping for?
Since the border between Greece and Macedonia has been closed and the fugitives, who succeed to cross the sea to Greece, are kept on the islands, only few fugitives can be seen in Cesme. Nobody knows where the approximately 400 people each week depart for Chios.
Ali and his team go on helping the remaining syrian families around Torbali/Izmir.
Izmir and Torbali : In Izmir and the surrounding at the end of 2016 there live about 90.000 refugees. In the western Turkey there are no official camps. Those are in eastern Turkey. There people get help by the government, like food and education for the children. But these camps are completely full . From the 3,5 Million Syrian refugees 90 present have see, how they get along by themselves. In Izmir we work together with a Turkish NGO (Tiafi) and finance a physiotherapist , help families without parents, who can work etc. and in 2019 bought together with a german NGO(Musketiere) a van for the transportation of the children to the Kindergarden and the physiotherapist, buying food for the 100 daily cooked dishes, transportation of ill people to hospital etc.
Approximately 50 km south of Izmir lies the small town of Torbali. In the near vicinity, approx. 8.000 Syrian refugees are living in inofficial camps under most simple conditions.  Nearly none of those camps have sanitary installations – neither baths nor toilets. The people work on the fields, when there is work. Those, who have a official registration, theoretically can get medical help or their children can visit Turkish schools. But for going to a doctor they need to pay a days income for a translator and for going to school, the children have to know turkish. With the help of our friends there we provide medical help and support people there with food etc. In urgent cases arrangements are made for free treatments at the hospital. Christmas 2016 we started an education project, hired Syrian teachers, bought school tents and school material and support since then the growing project. Unfortunately the parents send their children during the season on the fields so we can only offer an evening school in this time. But our school is growing. In winter 2018/2019 we have often 90 pupils in one class and give several shifts during the day. Every family wants to send their children in our class and newcomers try to settle down near our school, so that their children can profit from our school too. Meanwhile all the children have learnt to read and write arabic and are quite good in maths.
Eastturkey: One hour from Adana,  three hours from the syrian border at the end of 2016 their also live many thousand syrian people in about 25 camps, also without any toilets or baths or sufficient electricity. We worked there until spring 2017 all four to six weeks as doctors. Also here we started at the end of 2016 an education project, hired two Syrian teachers and bought two school tents for the bigger camps. In Reyhanye at the Syrian border there are several houses in which handycapped of the war are taken care. We could help with medical work, medicine, wheel chairs and food. Further north at the Syrian border we finance a midwife, who takes care of pregnant and other women in need.
Greece
We are in Thessaloniki (October 2020) and work in the Diavata Camp. Many from Moria and the other camps on the islands have been sent here. In total, well over 10.000 people live in and around Thessaloniki in around 18 camps or on the streets. Around 1.500 people currently live in the Diavata Camp, one third of them women and children. Those without a cleared status live in containers and receive a money card for 150 euros for adults and 60 euros per child per month. So they have to provide themselves with everything, food, clothing, hygiene articles, mobile phone transport and medicines. Only makeshift medical treatment and school lessons up to the age of 16 are free. Once the people in Greece are officially registered, they will not receive any further support. You then have to take care of yourself and also leave the container. The same applies to the well over 10.000 refugees in Athens, who meanwhile had to leave their temporary homes in vacant buildings, the so-called squads. People then live in tents or on the street. There is little prospect of work. They then look for food in the waste from the weekly markets or move from Charité to Charity to get food for their families together. As before, most of the medical problems, especially outside of the container settlements, are the consequences of malnutrition and poor hygienic conditions, many skin problems, wounds, infected insect bites all over the body, hair loss etc. In the Diavata Camp we work together with Mauricio, the head of the QRT (Quick response Team). With the support of the Greek NGO Naomi from Thessaloniki, he expanded an old factory building right next to the Diavata Camp and created a place for women and girls there with a few young volunteers. There they can relax, laugh, paint and, depending on which volunteers from Europe are there, also learn. With the generous donation from Pro Humanität we were able to set up and fill his pharmacy so that both state and voluntary doctors, like us, can work. While we were still working from the car and on cardboard boxes in the middle of the tents on the first day, the work situation of our "field clinic" improved after visiting a camping shop by buying a sun lounger, a camping table and some stools. But the most important thing we can give people is the hope that Europe will not fail them completely. Because after all the hardships of getting here, they are now aware that after the official registration they are completely on their own. The people have reached the end of the road to Europe.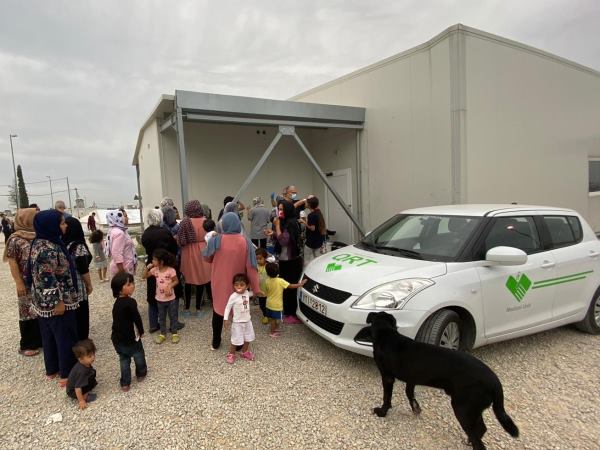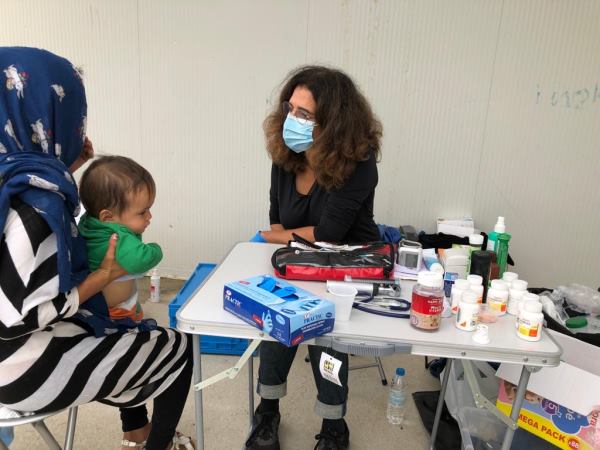 After the closing of the border spring 2016, 27'000 people – amongst which many women and children – were held up under degrading conditions in the north of Greece.
Idomeni: In Idomeni, at the greece border to Macedonia, where between ten and twenty thousand people waited in vain for the passage to the rest of europe.  We helped with medical support, food etc..
Thessaloniki: 11'000 were placed in military camps around Thessaloniki after the evacuation of the Idomeni frontier camp in June. Refugees were literally left to sustain themselves there, provided with some nourishment by the greek army. Without the help of the many, mostly young helpers from all over the world the situation in those camps would be catastrophic. NGOs (non governmental organizations)  provided for doctors and a somewhat more humane infrastructure through their relentless support, made possible by donation funds. Tents were provided by UNHCR etc.
However, people were  pent up together in tight space, exposed to great heat in summer and to the cold of winter. Vegetables or fruit are seldom. A typical breakfast consisted of one single industry made croissant, lunch of a dry sandwhich and one falafel, dinner might consist of a bowl of potatos, or just some plain rice. Most people suffered from lack of vitamines – especially children and pregnant women , unable to prepare dishes on their own and restricted by all other means.
What was worst for most people was to be condemmned to inactivity – bereft of hope that the situation will turn for the better. Such breeding ground leads to desperation, depression and also aggression. In 2017 most of the camps were closed and people had to try and find themselves a shelter or got some place in old houses etc. At the end of 2018 some camps were reopened and we were there to help as doctors and with the distribution of food.
Athens:  Here live about 1000 refugees from Syria, Afghanistan, Iran, middle east and Africa in empty houses, the so-called squads.  We are there every few weeks to support them with needed goods, like stoves, refrigerators, ovens, mattresses, food, clothings, medical support etc. . At the end of 2018 we started our help for am agriculture  autonomy project. On a piece of land outside Athens the refugees can grow their own food, have their own cow and hopefully soon other animals and can sell cheese and agriculture products on the market in Athens.  We are planing to buy a transporter and hire a house nearby for family to live there.
Korinths Camp: 
In Oktober we started to work as doctors in a new Camp close to Korinth, about one hoer west from Athens. There are about 700 people here from the islands and there are getting more every day. As it is a new camp, there is not much help from NGO`s, the food situation is bad and there is no warm water. We treated more than 300 people, mostly women and children and are planing to improve the situation in the future.
Lesvos: Because of the opening of borders from Turkey many thousands came to the islands.
Now about 22.000 people try to survive in and around Moria Camp. Now in February and March 2020 the situation has even got worse because of the aggressive activities of right groups and the change of the greece policy. So also the school that has been supported by us from stand by me Lesvos has been closed and as it could not be bad enough now the first case of the corona virus has been seen on the island.
Meanwhile we have got notice from a new military camp west from Athens, where about 400 people from Lesbos and Chios and 200 from the squads in Athens have been brought and where there is no help from other NGO`s. The situation there is so bad, that we decide to change our plans and send our van with clothings from Cologne there and also go there to work as doctors and do whatever is needed and possible. We will report soon for you. Thank you so much for your help, which makes our work possible.
Review of the Year 2020
Greece Education: At the beginning of this year, there were about 18,000 people living in the Moria reception centre on Lesvos, of which about 4000 were children and young people. We helped set up the stand by me lesvos school and find other support. Together with other organisations, we made regular classes possible for many of them.
Medical care: At the beginning of the year, many aid workers and also doctors fled first from the radical right-wing mob, then from fear of Corona. We financed three Greek doctors who worked in Moria through "Kitrinos" and helped to organise medical equipment and medicines.
In Thessaloniki we also worked as doctors ourselves and financed a large part of the medicines for the whole year.
Relief supplies: After the fire in Moria, Tobias Winkler from "Liebe im Karton " organised a Germany-wide relief action and within a few weeks 4 low loaders with valuable relief goods could be collected and sent to Lesbos. In the course of the year, together with friends, we were able to organise and support numerous other transports of relief goods, both to Lesbos and for the refugees in Athens and Thessaloniki.
Due to the good connection with the organisations and people in Greece and Germany and the corona-related restrictions, the "home office" help became more and more important.
Turkey
In Izmir, we became the main supporter of Tiafi, the main drop-in centre for refugees and local people in need, especially also in Corona times. In contrast, we had to temporarily close our school in the refugee camp in western Turkey due to Corona. However, we were able to continue the food supply, which is particularly important due to Corona.
Syria
We collected two lorries of clothes and other aid and financed the transport of 6 large containers of relief goods.
Iran
In Iran, the virus hit the economic embargo and various natural disasters. We helped with food and relief supplies and are collecting for medicines.
We thank all donors and helpers for making this work possible.
The first three months 2021
In Thessaloniki, we continue to finance the necessary medicines every month and, with the help of Liebe im Karton, we were also able to arrange for a dental practice from Hamburg to be set up for medical volunteers. In Athens, we continue to support Khora free shop with the purchase of food and other relief supplies. In Lesvos, we support stand by me lesvos by arranging and sending relief supplies. In Turkey, the refugee project in Izmir Tiafi is now almost exclusively financed by us. After an extensive review, we have now received generous support from the Schmitz Foundation for our training project. In the meantime, we are also financing two physiotherapists there for the Syrian children injured in the war. Our school in the refugee camps has also grown. In Iran, we have supported children with cancer with a large collection for medicines and continue to support our school for the disabled.  In Bangladesh, we supported the Rohingyas with food after the flood disaster and are helping again after the third major fire this year. For Syria, we are planning to send an ambulance soon.
Help us
Donations are used solely for the relief projects specified on this website.
Avicenna Kultur- und Hilfswerk e.V.
Deutsche Apotheker- und Ärztebank – apoBank
IBAN: DE 55 3006 0601 0005 0195 00
BIC: DAAEDEDDXXX
Keyword: refugee relief
Please indicate your adress on the transfer form if you wish to receive a receipt for your donation.
Food-sponsorship program
Many refugees live in miserable circumstances right now, as the COVID-19 crisis spreads and eradicates also their possibilities to make a living. Our community center in Turkey has received more than 100 calls in the past days from families that ran out of money to feed their children. So here we go: We are launching a food-sponsorship program for refugee families affected by Corona. EUR 30,- will provide basic food supplies (oil, lentils, rice, etc) for a family for one month. You can take over a sponsorship for one family for the duration of the Corona lock-down. It's 30 EUR a month and it helps that kids don't have to go bed hungry. Our friends at @TIAFI will organize the distribution, 100% of your donation goes to the families.
Help for Idlib
The distribution of our first truck for Idlib with 400 mattresses, 800 jackets and 700 blankets from Turkey in the Kaferlosin Camp near Idlib has now been completed with the big help of our friend Tamar Altair.  A second load with three trucks, with 24 tons of food, 12 tons of baby milk and baby food, clothes, shoes, hygiene items, bandages, organized by Human Plus. We help together with AHP with clothings and blancets and medicin etc. and hope the trucks can pass through all the boarders to Syria in spite of the Virus. Now we try to send 2800 boxes of clothing etc. collected and sorted by ,all for all ' in and around Dortmund and our helpers from Cologne and Wilnsdorf by ship to Idlib. Barada has already agreed to make the distribution in Idlib.
Rohingyas in Bangladesh
Still there are more than one million Rohyngyas living in the Camp around Cox Bazar.
The camp situation getting worse day by day. There's no sign of any kind of opportunity to send them back to Myanmar. It will take at least 2-3 years more. The government is trying to put a fence around the camp, so that people can't spread out all over the country. Also they put more and more restrictions for the NGO's. Already there are a lot of restrictions about food and about water pumps. FD7 is closing, with whom a NGO can bring money from outside. Education and sanitary facilities are to poor to live with. They are living such a miserable life. As a reaction violance is encreasing. Although they try to prevent smaller NGO's from entering the camp, we could continue our food serving program.
Lesvos in winter
The situation in moria is always worst in winter. But this winter it is worse than ever, because of the increase of the population in and outside the camp. Originally planned for two thousand people , there now stay about 20.000 people, of which about 4.000 children. Half of them stay in the camp. the other outside in the forests. They live in tents, between 2 and 50 people in each. Some tents are dry and have safe electricity, which can be used also for heaters, but many, specially outside the camp, in the forests, don't give shelter against rain and coldness and often four people sleep in a two persons tent. For food the people have to stand many hours every day in lines. The distribution of clothings and blancets is difficult. We support the biggest NGO distribution center Attica with clothings and blankets. Unsupportable is the hygienic situation. The toilets are so dirty, that most the women have local infections and the violence in their he camp is so brutal, that at night they don't dare to go to toilets, what causes other bladder deseases. In cooperation with the NGO "movement on the ground" we try to help with material help and as a psychological and social help also with a community center. To bring the children and women for a short time out of the camp situation and give them the chance to learn something we support the greec NGO stand by me lesvos and carry the costs for 100 children and women.
Flood disaster in Iran / 2020
After the last catastrophe in 2019, this year again parts of south eastern Iran have been under water. We help with food, clothings and rebuilding of schools.
Flood disaster in Iran 2019 
After  years of drought, large parts of Iran, a total of 23 out of 31 provinces, both in the north and in the south, were hit by heavy storms and heavy rains. Several cities and more than 180 villages were evicted. Almost half a million people live in shelters. The resulting property damage is estimated to be over one billion euros. Due to the economic embargo and the resulting economic crisis, support from both home and abroad is made considerably more difficult. Avicenna has sent volunteers to the crisis areas for whose work we urgently need your financial support. Many families have lost everything. We buy carpets, blankets, clothes,mattresses, refrigerators etc. directly in Khuzestan Province, in the southwest Iran, and donations are used 1 to 1 directly without deductions.
Our goals in Westturkey are:
1. The improvement of the living situation. Currently, thousands of people live in tents without toilets or bathrooms. According to the seasons children elder than five years and their parents work in the fields. But out of season there is a big need of  food, clothes and tents etc .
2. Medical help: Although many have an official registration as refugees and therefore the possibility to visit a doctor, there is always a need for medical help as nobody speaks turkish and they have no money for a translator or the transportation to a hospital..
3. Education: we support Syrian teachers and finance school tents and school material for teaching the children.
4. Support of lokal NGO`s like Tiafi in Izmir and autonomy projects.
Our goals in Lebanon are:
We support the NGO group Salam by financing a schools, that drives from camp to camp to educate children as well a music teacher, who sings together with Syrian children.
Our goals in Greek are:
We help the people in the squads in Athens and Support an agriculture autonomy project in the surrounding of Athens. In Lesbos we support the work of Rafat and his wife and friends.
Our goals in Iran are:
We help existing NGO`s and other organizations, who try to improve the situations of children on the country side and poor minorities, also with the aim to prevent them to become refugees. We help a small school for handicapped children in the desert one hour from Isfahan. And on every journey we help the poorest people with food and medical work, wherever we can. In summer 2021 we started to support the construction of a school for afghanian children in Isfahan.