Welcome
Avicenna was founded with the original intention of helping people and organizations in countries where help is needed. Due to the growing destruction and oppression of many countries and the increasing number of people who are forced to flee their native countries, Avicenna has adapted its original goals to now primarily support refugees "on the road" to Europe. A special focus lies on people who stay in inofficial camps near their homeland, in order to return home at some point or keep staying in their homeland in difficult conditions.
We invite everyone willing to help people in need to support us in person or with a monetary donation.
Our Facebook Site is permanently updated with new information, reports and fotos.
About us
We are a small group of doctors and other NGO's supporting refugees during their stay outside their native countries. We have helped in Greece, Turkey, Serbia, Irak, Lebanon and the refugees from Myan Mar in Bangla Desh. We provide for medical aid and – with the help of our international and local friends and helpers – for general supplies that are vital and bring relief as well as for education. In particular, we support the self-organization of those who are placed under disability to facilitate a life in dignity.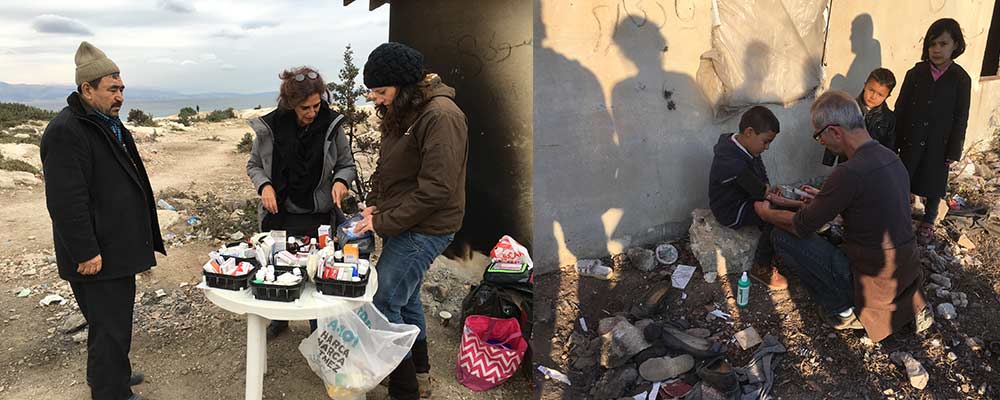 Avicenna supports people who are held up or decide to remain in regions of crisis by voluntary choice.  We provide for medical aid and – with the help of our local friends and helpers – for general supplies that are vital and bring relief. In particular, we support the self-organization of those who are placed under disability, thus bereft of their human dignity.
How it started
In fall 2015, we intended to spend our vacation in Crete/Greece. However, we then received a text message from a family member, who was engaged by German news magazine "Der Spiegel" to write a reportage while travelling the Balkan-route. He informed us about the wretched situation he encountered in Lesbos, asking us whether we'd be willing to help. Barely having arrived in Crete, we found ourselves on the next machine headed for Lesbos.
Since that moment, we are people on the road – looking for people on the road. We've met people who have lost their home and who are hoping for a safe, humane and – most of all – fair future. We have met people, who find joy and fulfillment by helping others. These ongoing encounters are changing our lives and have not lost their grip on us ever since!

TV report about our work in Lesbos
In the black of night, a rubber dinghy is attempting to land on a rocky coast in Lesbos. Shrieks of children are echoing through the darkness, while the boat is in permanent danger of capsizing. Intended for 30 people only, more than 60 are now huddled together on board…
These are scenes which are hard to forget! The people who have fled from war and terror have survived the dangerous passage from Turkey to Greece. They are soaking wet, yet lucky since tonight, helpers are present. Amongst them are the German-Iranian couple Bita and Khalil Kermani, two doctors from Cologne. They are expecting boats to land, helping people to disembark and onto the safe shore.
Part 2 her and Part 3 her
Çeşme
In the Çeşme area, refugees had sometimes to wait 10-20 days, depending on the weather and/or controls by the Turkish coastal guard, in order to cross over to the Greek island of Chios. It's a passage of only 8km, yet oftentimes deadly due to crowded rubber dinghys. Until August 2015, people were split into groups/families after a 4-hour march from the bus-stop and then crammed into filthy construction-abandoned buildings: a smugglers "camp" more like a dumping ground, located right across the shore of Chios.
Starting off in December 2015, we were the first doctors to undertake the medical support of – at times – thousands of refugees, primarily stemming from Afghanistan. Furthermore, we also tried to make their accomodation more "humane" (for example by providing matresses).
In January 2016, the area was emptied and sealed by the police. Afterwards people were waiting for their passage in boarding houses. Oftentimes, 10-12 people had to share a regular double room. The locals, in particular Ali and his group İmece, provided them on a daily basis with food and clothing.
Later some of those boarding houses were also cleared by the police. Hence, many were forced to sleep outdoors, exposed without protection to the cold. We met many children suffering from highly feverish infections, crouched on park benches.
We were much aided by the circumstance that our native language Farsi is very similar to Afghan, thus enabling us to communicate. It is of great importance to those people to talk – to let someone know about their worries and despair! Even if they should manage to put these exertions behind one day, by surviving the passage (which most of them have attempted several times, already), by getting as far as the Macedonian border – what might be expecting them there, that's worth hoping for?
Since the border between Greece and Macedonia has been closed and the fugitives, who succeed to cross the sea to Greece, are kept on the islands, only few fugitives can be seen in Cesme. Nobody knows where the approximately 400 people each week depart for Chios.
Ali and his team go on helping the remaining syrian families around Torbali/Izmir.
We helped in western and eastern Turkey and go on supporting the syrian children in the camps with education and physiotherapy.
In Athens and around Thessaloniki we help as doctors and with necessary supplies like food, clothing etc in the camps and squads, where more and more fugitives are waiting without much hope.
In Bangla Desh we build shelters for the Rohinjas.
In Calais we help with supplies like clothing and tents etc.
In Iran we support schools, children without parents and poor minorities.
In Lebanon we also worked as doctors, bought a school bus for the Salam NGO group and financed a music teacher.
Please click ARD-Mittagsmagazin for a report about our first mission in Çeşme and the situation at the turn of the year 2015/16.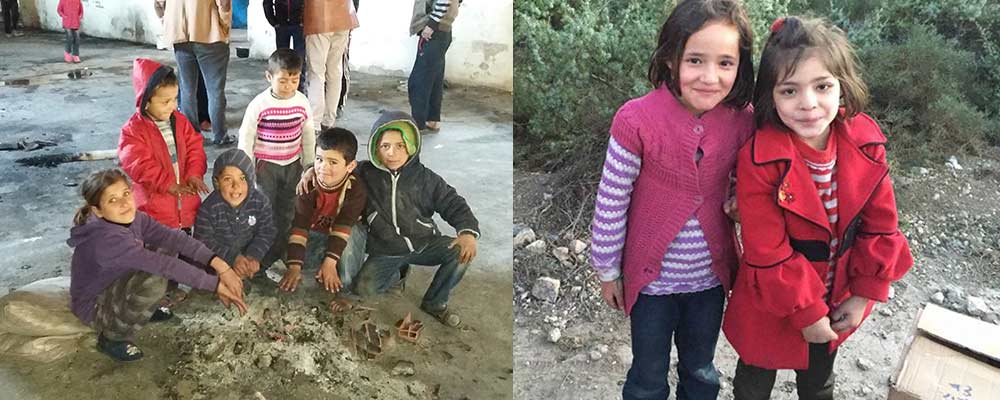 Torbali
In Izmir and the surrounding at the end of 2016 there live about 90.000 refugees. In the western Turkey there are no official camps. Those are in eastern Turkey. There people get help by the government, like food and education for the children. But these camps are completely full . Approximately 130 km from Çeşme and 50 km south of Izmir lies the small town of Torbali. In the near vicinity, approx. 8.000 Syrian refugees are living in inofficial camps under most simple conditions.  Nearly none of those camps have sanitary installations – neither baths nor toilets. The people work on the fields, when there is work. Those, who have a official registration, theoretically can get medical help or their children can visit Turkish schools. But for going to a doctor they need to pay a days income for a translator and for going to school, the children have to know turkish. With the help of our friends there we provide medical help and support people there with food etc. In urgent cases arrangements are made for free treatments at the hospital. Christmas 2016 we started an education project, hired Syrian teachers, bought school tents and school material and support since then the growing project. Unfortunately the parents send their children during the season on the fields so we can only offer an evening school in this time.

Eastturkey
One hour from Adana,  three hours from the syrian border at the end of 2016 their also live many thousand syrian people in about 25 camps, also without any toilets or baths or sufficient electricity. With the help of a Syrian friend and the American organisation: bridge of peace Syria from Hamsa Kurth Newmark we helped with the supply of food, blankets and tents, etc.. Also we worked there until spring 2017 all four to six weeks as doctors. Also here we started at the end of 2016 an education project, hired two Syrian teachers and bought two school tents for the bigger camps. In Reyhanye at the Syrian border there are several houses in which handycapped of the war are taken care. We could help with medical work, medicine, wheel chairs and food.
Idomeni
In Idomeni, at the greece border to Macedonia, where between ten and twenty thousand people waited in vain for the passage to the rest of europe  we helped with medical support, food etc..
Greece
After the closing of the border spring 2016, 27'000 people – amongst which many women and children – were held up under degrading conditions in the north of Greece. 11'000 were place in military camps after the evacuation of the Idomeni frontier camp in June. Refugees were literally left to sustain themselves there, provided with some nourishment by the greek army. Without the help of the many, mostly young helpers from all over the world the situation in those camps would be catastrophic. NGOs (non governmental organizations)  provided for doctors and a somewhat more humane infrastructure through their relentless support, made possible by donation funds. Tents are provided by UNHCR etc.
However, people were  pent up together in tight space, exposed to great heat in summer and to the cold of winter. Vegetables or fruit are seldom. A typical breakfast consisted of one single industry made croissant, lunch of a dry sandwhich and one falafel, dinner might consist of a bowl of potatos, or just some plain rice. Most people suffered from lack of vitamines – especially children and pregnant women , unable to prepare dishes on their own and restricted by all other means.
What was worst for most people was to be condemmned to inactivity – bereft of hope that the situation will turn for the better. Such breeding ground leads to desperation, depression and also aggression. Without the aid of European governments and their support of self-organization in the camps, better chances for survival for such victims of global politics are unthinkable.
About our help in Serbia, the Irak and Bangla Desh see on the bolts and on facebook.
Help us
Donations are used solely for the relief projects specified on this website.
Avicenna Kultur- und Hilfswerk e.V.
Deutsche Apotheker- und Ärztebank – apoBank
IBAN: DE 55 3006 0601 0005 0195 00
BIC: DAAEDEDDXXX
Keyword: refugee relief
Please indicate your adress on the transfer form if you wish to receive a receipt for your donation.
Our goals in Westturkey are:
1. The improvement of the living situation. Currently, thousands of people live in tents without toilets or bathrooms. According to the seasons children elder than five years and their parents work in the fields. But out of season there is a big need of  food, clothes and tents etc .
2. Medical help: Although many have an official registration as refugees and therefore the possibility to visit a doctor, there is always a need for medical help as nobody speaks turkish and they have no money for a translator or the transportation to a hospital..
3. Education: we support Syrian teachers and finance school tents and school material for teaching the children.
Our goals in Lebanon are
We support the NGO group Salam by financing a schools, that drives from camp to camp to educate children as well a music teacher, who sings together with Syrian children.
Our goals in Greek are 
We support different camps and squads around Thessaloniki and in Athens.
Our goals in Iran are
We help existing NGO`s and other organizations, who try to improve the situations of children on the country side and poor minorities, also with the aim to prevent them to become refugees.